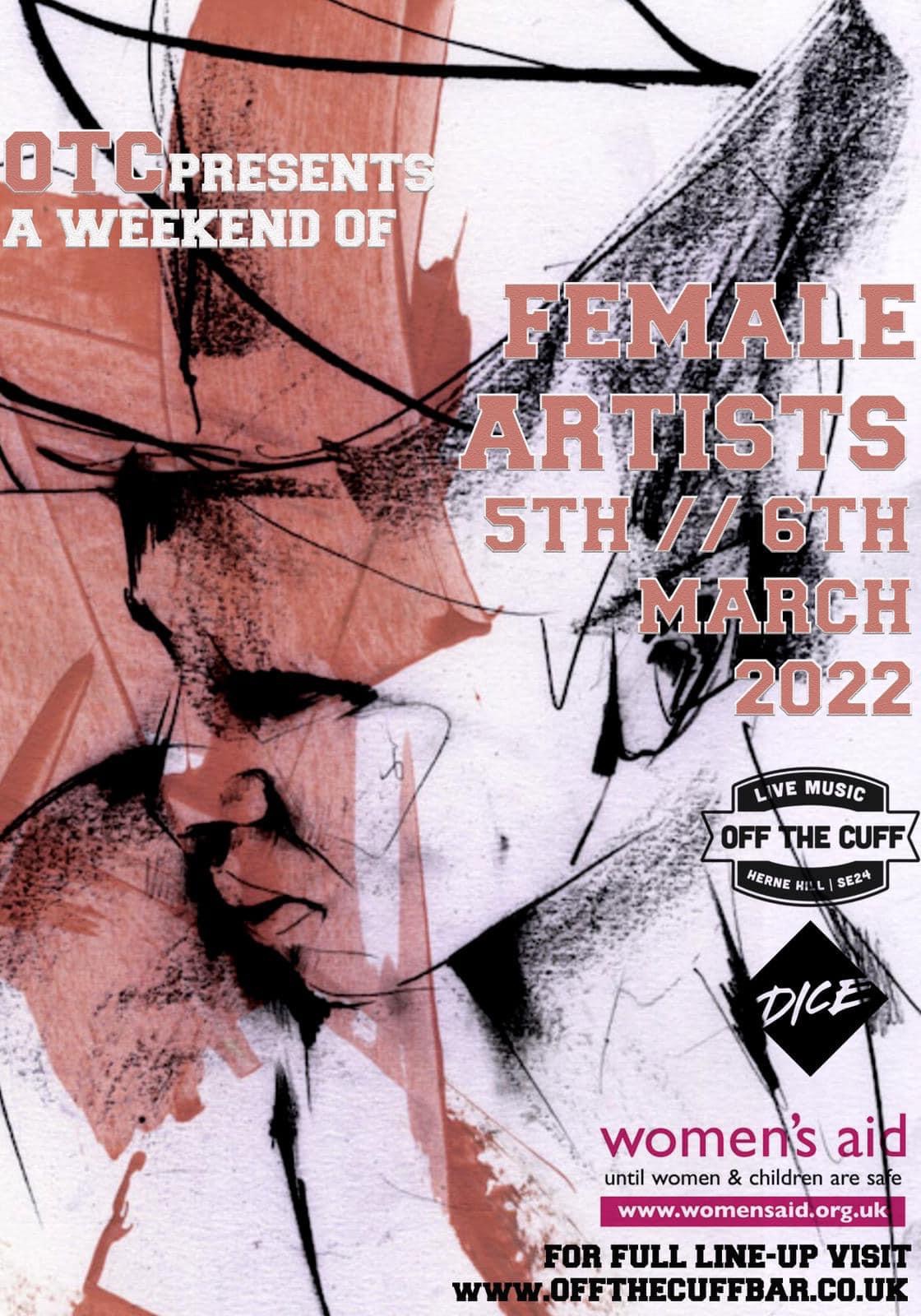 26 Feb

Weekend of Female Artists

OTC presents a weekend of female artists, in celebration of international women's day. There is over 20 female artists performing over two days and all donations will go to Women's aid.

Get Tickets here: https://link.dice.fm/q17f59d4f873
Line Up
Saturday 5th
PHOEBIE RIX 20:45 – 21:15
NADIA RAE 20:15- 20:45
SABRINA KENNEDY 19:30- 20:15
ALLISON MAREEK 19:00-19:30
BECKY FURY 18:45–19:15
NX PANTHER – 18:15-18:45
CLAIRE MARIA – 18:00-18:15
SUNDAY 6TH
JAZZI SIRIUS 21:15- 21:45
APPLE TART 21:00 21: 15
ANGELINA LUZI 20:00-20:30
EFA SUPER TRAMP 19:30 -20:00
SARAH KING 19:00-19:30
CHISARA 18:30-19:00
ISABELLA KERR 18:00-18:30
HANNAH CASSIDY 17:45-18:00
About the Artists
DRONNINGEN
DRONNINGEN is the creation of Beatrice Bonnano (vocals/guitar) and Vito Cerasia (lead guitar), both originally from Italy who met in South-East London in 2014, where they are still based.
Since uniting their energy, craft and imagination, the duo has bred an electro-pop/rock fuelled sound which has been eagerly welcomed around the globe, the pair playing numerous festivals and TV shows in the likes of the UK, Sweden, France and India.
Since releasing the 'Carry on Dancing' EP in their first year, the twosome has persistently evolved their music and its fertile imagination. It has a richness and miscellany which defiantly defies that simple electro-pop/rock tagging creating a proposal which uses its audience's body as a plaything, hungrily enticing and manipulating them into unleashing inhibition freed instincts.
Yet equally, it bears a snarl and breath of defiance led by fuzz fired guitars which stokes the flames of thought and emotional reaction.
Insatiably uncaging high-energy temptation and devilish incitement, DRONNINGEN's sound has similarly marked out the band's inimitable live shows, their inescapable spirit enlivening voracity matched across acclaimed releases such as 2016's 'Royal Riot' EP and its successor the following year, the 'Sugarbox' EP.
Now as evolution continues to spark greater passion and invention, DRONNINGEN uncage new single 'Theatrical Love', a song which burrows deep, strings limbs like a puppeteer and contagiously roars with ravening uniqueness.
It is typical individual DRONNINGEN and equally another atypical incitement for the world from Beatrice and Vito, an invitation to proudly uncage the real you and dance!
Visit DRONNIGEN on Facebook
NADIA RAE
Nadia Rae is a neo soul singer and pianist with shades of Alicia Keys and Adele
See more of Nadia Rae on YouTube
SABRINA KENNEDY
Sabrina Kennedy's showstopping vocals reached UK and US tv this year via syncs for her anthemic song 'Hold Tight' on Love Island and TOWIE. Her big hitting songs address the divine feminine, strength in adversity, and bold sexuality. Born of Bajan and American heritage, she was adopted and raised in Salem, Massachusetts ,a town whose legacy of witchcraft echoes through her music. If the dramatic comes naturally to Kennedy, that's because her life already reads like a novel: she met her birth mother for the first time live on TV, following her appearance on MTV's 'Real World'.
"I make noise for the misunderstood ,for people who feel they don't belong. I make noise for women. We've been burnt at the stake for centuries" Sabrina Kennedy, Bricks magazine 2021
Allison Mareek
Allison Mareek is a multicultural singer and songwriter. Descendent of Mediterranean immigration blended with a French grandmother and upbringing, she came of age while living in Israël and developed a love for diversity in cultures and people. Now based in London, where she has found a true melting pot that mirrors her own roots, she's weaving these influences into a sound that is both familiar and unique. A sound where soulful melodies meet jazz standards, ear-catching blue notes, and a minimalist pop production – blending as many different colors and routes as the ones that have dotted her storyline so far.
PHOEBIE RIX
Phoebie Rix is a young singer song writer from South East London who found her love of music as a form of escapism from the darker natures of the world as a young girl, who now strives to share her experiences with mental health and history of abuse to spread awareness, bring comfort and sense of belonging and relevance to those who feel alone.
BECKY FURY
Becky Fury has been a beige weirdo with bisexual pretentious since before it was fashionable and has been performing comedy across the UK for not quite as long. She has written for radio and Theatre and has some awards at various national arts festivals.
Stuff other people have said about her
"Finest sticks of comedy dynamite to be found for love or a suggested donation" – Scotsgay
"Funny, uncompromising, took my breath away with her inventiveness" – Lancashire Evening Post
"One to watch" – MI5 Domestic Terrorism Unit
NX PANTHER
Dubbed the 'Fine Artist turned Grime Artist' – NX Panther is the musical venture of the internationally renowned visual artist Alia Pathan. Having toured her Moving Image artworks across the globe, her debut release has seen her hitting up https://efasupertramp.co.uk
CLAIRE MARIA
Actor, writer, poet and god knows what else…
JAZZI SIRIUS
Jazzi Sirius is a singer/ songwriter, poet and rapper from Camden Town – best known for her storytelling abilities and unapologetic energy both on and off stage.
Not 'just a rapper' and not 'just a singer', her story is one of stripping, pirates, malaria, mental health, the fashion industry, the rich, the poor and a whole lot more. A wealth of experience & influences from which she draws clever lyricism & social commentary alongside catchy melodies, bass-y breakdowns & undeniable BARS.
Captivating audiences in Ibiza whilst homeless, battling with mental health and living in the forest between 2016 – 2018, she since came back to the UK to find her sound. She started rapping in Lockdown & hasn't looked back; co-producing an album of 'Ethereal Trap' tracks with DJ/ Producer Mark Fox set to be released throughout the year.
ANGELINA LUZ
ANGELINA LUZI is an Italian and English female independent recording artist, singer, songwriter and composer born in Italy and based in London. After graduating in music from Goldsmiths University and completing a music production internship at The Midi Music Company in south east London, her artistry and passion for voice arrangements led her to write, arrange and perform her solo material for a 50-piece choir at the renowned Royal Festival Hall as part of the Chorus Festival, a performance conducted and curated in collaboration with Mercury prize nominee ESKA. In Uk Angelina also performed at Glastonbury Festival, London Jazz Festival, Barbican, Ronnie Scott's, The 229 , Shepherd's Bush Empire Lewisham People's Day Boomtown Festival and most recently featured as front singer at East Wall, a large-scale spectacle of dance and live music directed by world acclaimed choreographer Hofesh Shechter at the iconic Tower of London. Angelina continues working on her music creating cinematic soundscapes, showing a wide spectrum of musical influences combining electronic pads, ethereal harmonies and wrapping them up in soothing string-laden folk and alt-pop crossover.
APPLE TART
London born Performance Artist, Neo-Burlesque, Drag King and Mime, Apple Tart first hit the stage in 2009, graduating form Central Saint Martins School of Art and Design in 2012. Forever synthesising gender and age, Tart's showgirl nature has disgraced the stage in an array of late night laser light cabaret freak shows. Founder member of the notorious Late Night Shop.
CHISARA
Ever-shifting environments, constantly (r)evolving juxtapositions of experience, are recurring themes in much of Chisara Agor's art. It's a fitting focus for her expansive, multidisciplinary practice, which originates in part from her creative education at a local theatre. From a young age, Agor learned to act, sing, play, dance and write simultaneously (not to mention her extensive visual output). The storytelling and theatrical elements present in their music are drawn from a philosophical enquiry and desire to create works that inspire conversation, reflection, and critique. From society, to politics, to how we find joy, Chisara's work is as much about the world around them as it is their own personal interpretation of it. With an upcoming EP Shadows and Searchlights arriving next Spring, Chisara continues to write with a melting pot of sounds and textures. West African percussion, jazz, hip hop, bossa nova, indie rock, easy listening and dub-inspired elements surface through her music along with spoken word, delicate harmonies and lyricism that invites audiences to sit and listen.
SARAH L KING
Sarah L King is a jazz vocalist, composer & songwriter. Her love of singing in gospel, jazz & soul choirs led her to emerge as a solo artist, and she has formed her own quintet, who regularly play on the London circuit. She has released an EP and several singles, and is currently working on her first original album. Sarah's dad was a jazz trumpeter & her own songs are influenced by jazz standards as well as funk & neo soul.
EFA SUPER TRAMP
Efa Supertramp is a Welsh folk-punk grrrl who comes armed with an acoustic guitar and a powerful voice. She regularly tours across Europe – appearing at festivals, bars, squats, venues, living rooms and street corners to perform her songs. Originally from North Wales and now based in London, Efa sings in both English and Welsh and has been shouting about the world's wrongs in one form or another since she started her bilingual punk band The Stilletoes at the age of 15.
Her first solo album Rhyddid Yw Y Freuddwyd (Freedom is the Dream) was released in 2015 and saw her touring the songs extensively across the UK and Europe, frequenting autonomous and political spaces as well as independent venues. She's been honing her craft since then, culminating in a second album recorded during the pandemic lockdown coming out in autumn 2020, along with her first short-run vinyl 7" release. Her catalogue of works are self-released and self-funded.
Whether it's the DIY attitude of the punk scene, the powerful female voices of Riot Grrrl, the socialist beliefs of many of her fellow Welsh-speakers or the anarchistic spirit of folk music's nomads – it can all be found in Efa's music and activities. Efa's songs are angry but uplifting; railing against money, power and greed whilst having a zest for life and freedom. Her anger at an unjust world is combined with constructive solutions and hope for a better future. Those who fought for equality in previous generations – showing that protest music is far from dead.
HANNAH CASSIDY
Hannah is an applied theatre practitioner and spoken word artist. Advocating mental health wellness, her writing and performances challenge audiences to take a rain check on their unconscious bias and stigma. Through creative writing and hip-hop workshops she hopes to travel deep into the darkest realms of mental health, presenting the transformative power collective creativity can truly have.
IZABELLA ALICE KERR
Artist information coming soon!
XIE
Artist information coming soon!